Part 1
Sensitivity Response
Taking a role in integrating tech for solutions of sensitive nature is an area we are familiar with, and are passionate about. Our previous solutions have covered many sensitive topics including:
For a local museum, we integrated lifesize 3D models, pop-up info, interviews, and free-roam imagery into AR experience to educate about being homeless
We created multiple XR solutions including a multi-platform app that is still accessible via the app-store today
AR educational solutions to help children understand heart attacks and brain cancer. This solution was used at a large event and also has a twin VR version.
​
Users bring the heart and brain into their room for an immersive educational experience
We have created numerous solutions for and with those with ALS and spinal chord injuries. Hear from this gentleman about his experiences of using our solutions and feeling his body again.
​
Additional related solutions include an empathy emulator to allow users to experience through the eyes of another.
AR solution includes imagery, transparent video, voice recordings and images to help with the passing of a loved one, so they can be remembered for eternity.
​
Users point their phone/iPad at tombstones and/or family memorabilia to bring memories to life
Here's how we can use our experience of handling sensitive information
This video gives an example of one of our solutions beings used for a Special Olympics event
All AR activities were custom created to ensure easy access and interaction by all (athletes and their families)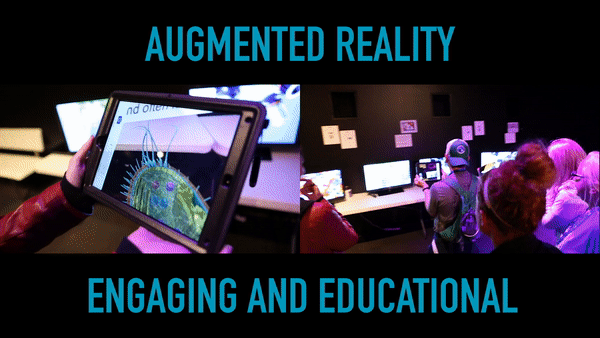 LET IMAGES TELL THEIR STORY
For our MEMORIES solution, we brought photos (of the deceased) to life with their own voice. We believe we could leverage knowledge gained to help customize TOF specific solutions.
​
This video demonstrates how a 2D portrait can be transformed into an animated 3D portrait as the man turns to you and tells you [voice over] of his life and times
Similar approaches could be useful in developing an

automated concierge

to help guide users through the experience and let them be comfortable.
Users could choose from relevant and/or time specific journeys through the museum, and be directed to particular images, QR codes or even augmented Treasure Hunts.
​
Additional modes could be use for children, learning difficulties, or visual impairments
We have experience working with people of all ages, abilities and backgrounds and making sensitive topics interesting and appealing.
In this example (not staged), two kids interact with the multi-XR table, learn about being homeless, then pick up an iPad with AR elements to learn about possible solutions to this sensitive subject. Notice how they are engaged and telling each other about their findings about Homelessness.
TAKE GUESTS

INSIDE

EXPERIENCES
These screen shots show use of the AR app putting the solution into a backyard and allowing you to tour it as if it (and you) are really there. For this project, we explained the details of how common problems become big problems if you are homeless.
​
We could use similar approaches for TOF, to show users mini versions of the homes, buildings and environments, and even allow them to tour them at room scale (room permitting) .
Part 2
Creativity Response
We honestly believe that creativity is one of our key assets, along with collaboration with our clients. Some examples of creativity are detailed below.
Creating the
first mobile phone based movement

solution whereby if you walk,run,jump in the real world you similarly move in the virtual world. We introduced this to our app, and have

over 2.5M downloads

.
NOTE: this approach also means it was one of the first and only solutions that make it
playable by a wide variety of people, ages, and disabilities.
Feedback from a real user that gives a nice overview of how it works (or at least one option). Because of the movement options, one can play it standing, sitting, running, or in a wheelchair.
SOME WORLD FIRSTS FOR

EVERYONE
We've worked with the Seattle Space Needle for several years and integrated many cutting-edge creative elements including:​
Creating an entire photorealistic city & making a VR bungee work in VR​, for anyone of any age (without sickness)
Can you tell the real from the virtual?
We could aim to do the same with Eishishok
Real-time integration of a custom animated video of your experience that is sent to your phone​
Reduced 10M poly file down to 30k to ensure it ran on a mobile device, yet with no loss in quality.
Important if TOF will have lots of AR experiences
Building community by creating sharable AR versions for interactive experiences and photo opps
Created over 8 time-specific various animated versions that work for specific holidays and special celebrations - while squeezing into SN app at under 30Mb
FAMILY, COMMUNITY, & SHARABLE

MEMORIES
Finally, it's worth noting some other creative elements we've created that could be useful for the TOF experience
COMMUNITY:
In this target image based AR solution we built for the Museum of Contemporary Art of San Diego (MCASD), one can see a mini animated 3D portion of a city. Users can also zoom into 360 rendered images for further immersive experiences.
To consider for TOF, users could step inside a mini version of Eishishok or this could be a multi-location image of USHMM to help navigation.
TAKE-HOME OPTIONS
An educational archaeological solution we created, allowed on-site users to walk back in time and experience dig-site finds from Roman, through Iron-Age back to pre-history (VR, web, app, and webAR).
For TOF, we could offer an AR app or even WebAR (no app required) for a deeper level of engagement and immersion, and therefore even allow visitors to access some elements from home or school.
SMELLS, WIND, & SENSES
We were the first to integrate virtual smells into SteamVR, and we've worked with wind, laser sound, touchless displays, disability controls, virtual touch, and more.
For TOF, we could have localized sound and smells, covid friendly interactivity, connected experiences, and accessibility options.
AR PROBLEMS (& SOLUTIONS)
We've worked with tiny markers, limited lighting, old phones, and huge files... and we can make them all work in AR and across most mobile devices.
TOF will likely be low light conditions and tricky target images, good news is that we have experience and would love to help.
NAME: Mike Vu
ROLE: Technology Manager
EMAIL:
NAME: Diana Johns
ROLE: VP of Exhibits
EMAIL:
NAME: Henry Lee
ROLE: VP of Technology
EMAIL:
Block Project & Facing Homelessness
NAME: Rex Hohlbein
ROLE: Founder
EMAIL:
Part 3
Reference Response
PART 4. Additional Information
​
For additional information about how MXT can help USHMM, please see our RFI response webpage HERE
​
Yet please never hesitate to contact us at CHAT@mxtreality.com