At MXTreality, we provide intuitive solutions that enhance
user engagement using everyday devices that are accessible to all.
To help with your understanding, we've outlined the following 3 key areas
​
1 Examples of how we can help
​
2 Relevant case studies
​
3 Details about our company and the team at it's core
​
USHMM seeks to develop an AR experience to tell first hand stories, give context of family life, and offer interesting insights into the Eishishok community.
​
MXTreality love everything about this, and believe we can give your guests an array of engaging offerings, that will be easy to use, accessibility friendly, and work on most smart phones and tablets.
​
​
Based on our tried and tested experience of building over 30 related AR solutions (including Space Needle, Pacific Science Center, MCASD, MoPOP, Facing Homelessness, Stop&Shop, T-Mobile, Mariners and more) we can deliver solutions that are catered specifically to the needs of your visitors.
​
These include:
* public facing AR apps - fully customizable & public tested
* private AR apps - for special on-site solutions
* web based AR - works through the browser
* social media AR plug-ins - for sharable unique AR experiences
​
1 Examples of how we can help
We believe in #tech4humanity, and are always looking for ways to use our #tech4good. Partnering and collaborating with you would allow us to meet your goals while also fulfilling our mission.
SPARKS: Here's an example of how we could use a phone or iPad to bring images to life, to tell their stories, or act as a concierge guiding them through the exhibit.
FAMILY LIFE: For a Homelessness exhibit at PacSci, our AR solutions educated and entertained adults and children alike on life inside a blockHome. Users could use their own devices, or borrow an iPad. There was also a static touch screen option for those unable to freely move throughout the exhibit.
COMMUNITY: In this target image based AR solution we built for the Museum of Contemporary Art of San Diego (MCASD), one can see an animated 3D portion of a city. Users can also zoom into 360 rendered images for further immersive experiences.
We've created over 100-XR* solutions, and around 30 AR experiences. Some additional examples, and relevant solutions include:
*XR means Extended Reality and is the umbrella term encompassing Virtual Reality (VR), Augmented Reality (AR) and Mixed Reality (MR).
OBJECTIVES
Build an edutainment AR experience that teaches about planting, growing, and harvesting, that is family centric
OUR ROLE
Digital Design
3D modeling
AR animation
Gamification
Social options
TAKE-AWAYS
Managed to use AR targets that were very small.
Gamification lead to increased interaction.
Over 30 target images, 6 main animations and 100+ interactive activations and mini games within a single app
OBJECTIVES
Create educational AR experiences suitable for anyone of any age and any ability or disability
OUR ROLE
AR Consulting
3D Modeling
3D Animation
AR app(s) creation
TAKE-AWAYS
We've now worked with PacSci on multiple projects including a BlockHome exhibit, Special Olympics event, and Fundraising entertainment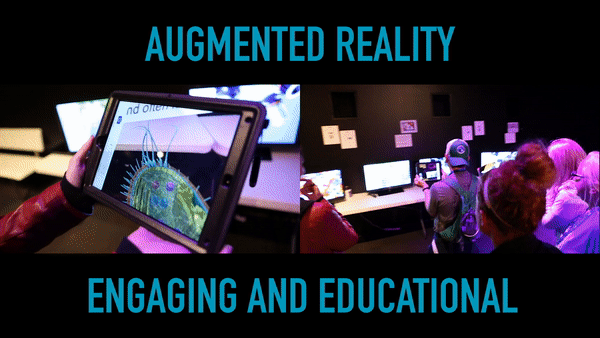 MISSION
Collaborate with innovative companies to build unparalleled experiences, accessible to all.
​
VISION
Bring the WOW to experiences through Innovation, Immersion & Impact.
​
As you have hopefully been able to ascertain, using tech for good is of high importance to our philosophy and way of doing business. We are committed to a safe and fun environment at our workplace and are attempting to have the same impact with our solutions.
[1] URL Our main website is
​
[2] How many years in business in the AR, VR, multi-media field?
We've been in business for 7 years, employ 17 people and have created over 130 XR solutions, about 30 are AR specific. We have over 2M downloads on our mobile apps, and around 1,000 concurrent users of our VR experiences.

[3] How many of your VR, AR, and/or multimedia development projects
Over the past five years we've served multiple educational and cultural and edutainment clients.
Almost all of our experiences fall into these categories (over 100). Example clients include:
Seattle Space Needle

Pacific Science Center

MCASD

T-Mobile

Mariners

Battleship IOWA

and many more.
​
​
Please feel free to look around our site, and let us know if you'd like to see anything specific. We are happy to provide references and can be contacted anytime at