EUROPA
EdGE and MXT are creating the VR experience Mission to Europa Prime - a STEM puzzle game based on space mystery, in an escape-room style about discovery on this strange frozen environment, the 6th moon of Jupiter.
​
The experience is grounded in the rapidly growing field of Astrobiology, the human spirit of exploration, and current research on Earth, including the amazing ecosystem of hydrothermal vents, analogs for potential crucibles for life on other worlds.
Immersive technologies like virtual reality have the potential to transform STEM based learning through experienced based learning. MXT partnered with TERC on this specialized adventure game designed to entertain while offering unique educational value.
S T E M
E D U C A T I O N
Did you know that Jupiter has 79 known moons?
Europa is the 6th closest to the giant, yet owing to its liquid ocean beneath the ice crust, is considered the most likely place in the solar system to harbor life.
Setting the Scene...
Players explore an abandoned science center, Europa Prime, and solve puzzles and problems in order to get closer to the who, what, when, and why behind the center's existence and fate. The storyline of the mystery begins with landing near a non-functioning airlock and robotic sentinel. Solving the first puzzle activates the sentinel and airlock, providing access to the center and much to explore.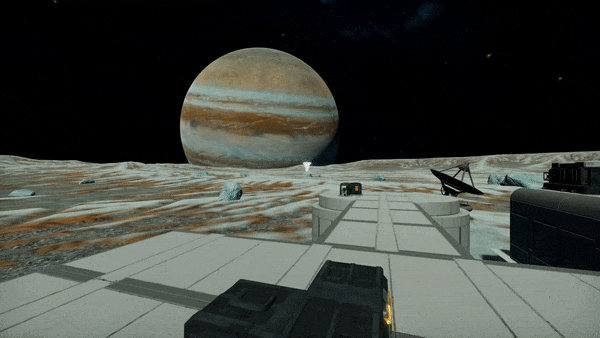 The mystery progresses, as the player solves STEM-infused puzzles using a format familiar to Escape Room enthusiasts.
Example puzzles include:
​
recognizing patterns in nature

piloting a remotely operated vehicle (ROV)

testing samples collected at a hydrothermal vent
We are looking for additional partners on our National Science Foundation
(NSF) funded Advancing Informal STEM Learning (AISL) grant to
broaden participation in STEM through a virtual reality (VR) science
mystery game with a focus on neurodiverse learners.
We are looking for partners interested in helping advance our work including:

1. Deep ocean and hydrothermal vent researchers with interest in STEM education, expertise in current ROV
technology and active research expeditions, and especially with VR, 360, and other imagery of deep ocean ecosystems.

2. Astrobiology expertise, especially with knowledge of current efforts to explore Europa.

3. Hardware and software companies with interest in exploring how current and future technology, including
VR headsets, graphics cards, and computers, can benefit STEM learning, especially for neurodiverse learners.
​
​
​
​
Contact us for more information:
EdGE: edge@terc.edu
Kelly Paulson: Kelly_Paulson@TERC.edu, 617 873-9747
UniVRsal Access Project: terc.edu/projects/univrsal-access/