PART 1. Sensitivity
​
Provide information (and links as possible) for one to two specific projects that you have completed in the past that handle sensitive subject matter.
In a few sentences or paragraphs, please explain why the project demonstrates your team's ability to work with material that requires extreme sensitivity.
The details below outline our approach for Sensitivity and Creativity, yet please refer to HERE for further TOF ideas and examples
​
​
From early 2017 to current MXTreality have worked closely with the Pacific Science Center and associated partners on several related sensitive endeavors including:
1) XR solutions for an exhibit focusing on Homelessness in Seattle
An engaging array of VR, AR, touchscreen, and digital solutions for people of all abilities, backgrounds, and tech knowledge to develop deeper interest about the homelessness causes, consequences and solutions.
2) AR app and live demonstrations for the Foundation Fundraiser
A series of AR target images were placed on dinner tables such that attendees could interact and learn about sensitive topics including Brain Cancer.
3) Special Olympics Evening
Working collaboratively with PacSci staff, we specifically created 3 stations of various immersive solutions (1) AR educational fun using an iPad (2) Custom VR experiences (3) Special touch screen solutions for neuro-diverse interactivity.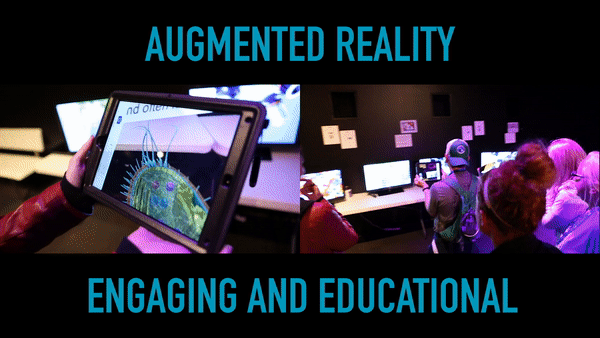 Video showing a variety of AR and VR solutions developed with PacSci for Special Olympics event
We care deeply about our community, inclusion, and assistive technologies. We donate about 5-10% of our company time to helping others. We strongly encourage every employee to dedicate time throughout their tenure with us to work on a non-profit as #tech4humanity is a key part of our culture.
​
In addition to the projects listed above, please feel free to ask us about other relevant sensitive experience including:
Travel with Empathy - a 1st person 360 film documenting flight travel through the eyes of the disabled

MXT memories - using AR to leave lasting memories for loved ones

Brain Cancer XR - how a friend dying of a GBM used our VR and AR to explain his plight

Wheel Chair Trainer - Have fun learning how to drive a virtual wheel chair using assistive tech!

& much more.
PART 2. Creativity
​
Provide information (and links as possible) for one to two specific projects that you and/or others whom you might emulate have completed in the past that demonstrate creative solutions.
In a few sentences or paragraphs, please explain why the project demonstrates your team's creative capacity. How did the solutions creatively address client needs?
From early 2018 to current MXTreality have developed multiple solutions with and for the Space Needle. Our collaborative XR efforts started with an R&D project, and we are pleased to say that we currently have 3 active solutions, one of which is among the most experienced VR tourist solutions in the world.
STRATOSVR:
Virtual reality bungee jump over a near photo-realistic cityscape
VIDEO XR:
Take home a custom digital memento of your experience
(& share on social media).
MY AR NEEDLE:
Snap Augmented Reality photos of yourself with family & friends
(with seasonal animated Space Needle models!)
World Class Creativity
When we started developing for the Space Needle almost 3 years ago, who would have guessed that we would:
Be one of the first companies to recreate a photorealistic city in VR

Create a solution that is experienced over 1,000 times per day making it one of the most popular tourist VR experiences in the world

Extend the solution to incorporate personalized real-time 2D to 3D photo to video animation (another possible world first)

Work with cutting edge tech and partners (we can't do it all alone!)

Develop solutions that are enjoyed by all ages, learning abilities, disabilities, and backgrounds

Create follow-up solutions that integrate our VR components into AR seasonal and holiday based solutions.
COVID update
The Space Needle has temporarily removed the app from both app stores (until they reopen).
​
However, additional information can be found
Summary & Additional Experience
What started as an R&D project almost three years ago has blossomed into a suite of XR solutions, and that in large part comes down to 2 core areas: creativity and collaboration.
We pride ourselves on the amazing creativity of our entire team, and have created over 100 XR solutions. While we feel the Space Needle is a great example, please feel free to ask us about other related solutions including:
ARCHAEOLOGY XR: From a Tusks Museum, to an AR dig site, to Web based AR experiences - for kids and adults alike

T-Mobile Mariners: Innovative and Educational experiences

Trip to Europa: STEM based puzzle solving about space travel & extra-terrestrial life, aimed particularly at ages 8 to 18

& more
PART 3. References
​
Provide Contact information of clients for the above projects, where available and applicable.
NAME: Mike Vu
ROLE: Technology Manager
EMAIL:
NAME: Diana Johns
ROLE: VP of Exhibits
EMAIL:
NAME: Henry Lee
ROLE: VP of Technology
EMAIL:
Block Project & Facing Homelessness
NAME: Rex Hohlbein
ROLE: Founder
EMAIL:
PART 4. Additional Information
​
For more information about how MXT can help USHMM, please see our RFI response webpage HERE
​
Yet please never hesitate to contact us at CHAT@mxtreality.com